November 19, 2020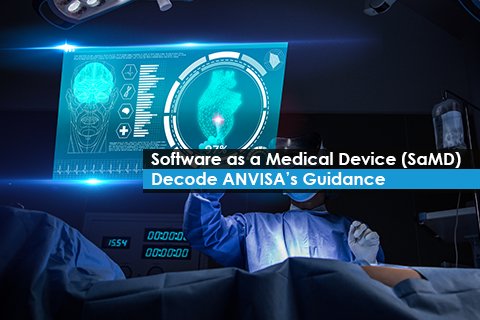 Medical devices are evolving and embracing the technologies, so are the Regulatory pathways to govern them. To add to the same, the Brazilian national Health Authority – ANVISA, has published a guidance dedicated to the software with the intended medical purpose (Software as Medical Device – SaMD). The new guidance is aimed at preventing or mitigating the risks associated with the use of medical software and ensure the safety and performance of the SaMD in the Brazilian market.
The new guidance document focuses on:
Harmonization of international SaMD regulation
Registration and notification as separate procedures
Statistical systems of medical data
Cybersecurity threats and vulnerabilities
Transparency of the information regarding compatibility and connections
In Brazil, the new Regulatory framework to be implemented on medical devices is based on existing regulations that are being implemented in the US, Europe, Australia, and Canada markets, and also based on the recommendations of the International Medical Device Regulators Forum (IMDRF). As per the new guidance, following types of medical software are covered under the scope of the new SaMD framework:
The software with the intended medicinal purpose designed to operate on non-specific equipment
Special medical software operating medical devices
The guidance also has a reference to the special international standards, such as, IEC 62304: 2006 Software for medical devices. There is no regulated certification process for medical software in Brazil, as there exist no certification standards. Hence, medical software is not subject to certification; however, at the same time, there is a possibility of voluntary certification.
To conclude, keeping abreast of the ANVISA's guidance, SaMD manufacturers can navigate through the Brazilian Regulatory landscape with ease. However, we could outline only a few points from the guidance. To decode it comprehensively, it is advisable to consult a regional Regulatory expert. Stay informed. Stay compliant.