July 29, 2021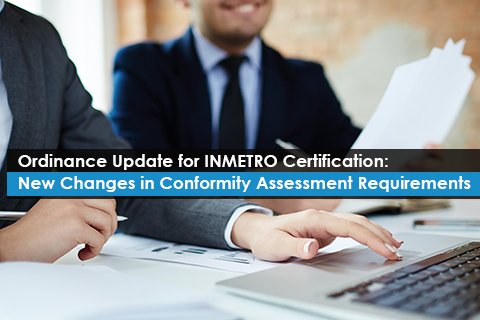 The Brazilian Medical Devices Market is growing significantly and is expected to reach USD 1.8 billion by 2023. Medical devices in Brazil are regulated by the National Health Surveillance Agency (ANVISA). Some medical devices require additional safety certification and accreditation by the National Institute of Metrology, Standardization and Industrial Quality (INMETRO) before the registration at ANVISA. The manufacturers should conduct testing and must obtain INMETRO certification through an accredited Certification Body (CB).
The Brazilian INMETRO certification is a mandatory requirement for all classes of electro-medical devices under IEC 60601. Other non-electrical products such as Dental Handpieces (ISO 14457:2012), hypodermic needles, gloves, syringes, etc., also require INMETRO Certification for selling the devices in Brazil. The INMETRO certification requirements have been in place for a long time. On December 18, 2020, INMETRO updated the conformity assessment requirements under the new INMETRO Ordinance No. 384/2020, which has replaced the previous Ordinance No. 54/2016.  The new ordinance has brought changes in the validity of the certificate and requirements for renewal, on-site inspections and test reports.
Earlier, the validity of the INMETRO Certificate was of 5 years and required renewal of certification before expiry. Under Ordinance No. 384/2020, the INMETRO Certificates do not have an expiry. The validity of certificates is maintained by carrying out regular audits every 15 months, or at least once annually.
On-site inspections were carried out earlier for the process of INMETRO Certification of medical devices. These on-site inspections are no longer a requirement for all the certification processes after the publication of Ordinance No. 384/2020. The certification bodies will review the results of previous audits performed as per the standards of MDSAP or ISO 13485 and decide whether an on-site inspection is necessary. A desktop audit will be carried out for the INMETRO process if the certification bodies decide that an on-site inspection is not required.
Earlier, test reports issued within two years were required for the process of INMETRO Certification. Since the publication of Ordinance No. 384/2020, the test reports older than two years (for small and medium-sized equipment) and older than four years (for large equipment) are acceptable for the INMETRO Certification process. However, the manufacturers should conduct new testing if any changes are made to the device after the issuance of test reports.
The INMETRO certification is issued by the INMETRO itself or by an INMETRO-accredited Certification Body. Before applying for necessary certifications and approvals, Brazil Registration Holder (BRH) must ensure that the products comply with all the necessary INMETRO Certification requirements.
INMETRO Certification is a mandatory requirement prior to the registration of electro-medical devices and some non-electrical medical devices by ANVISA. INMETRO Certification by accredited Certification Body provides assurance that the product complies with the Regulatory framework and meets safety standards.
To gain comprehensive insights on the INMETRO certification process and requirements, consult a proven Regulatory expert. Stay informed. Stay compliant.