September 18, 2023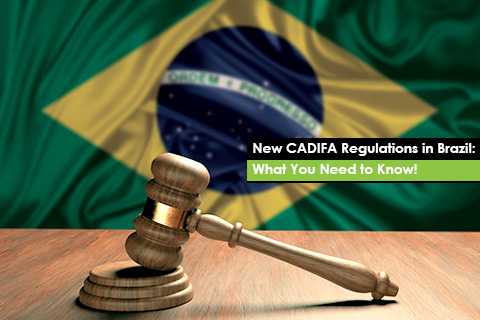 The Agência Nacional de Vigilância Sanitária (ANVISA), Brazil's health Regulatory agency, released new Active Pharmaceutical Ingredients (API) standards in April 2020, including the new Carta de Adequabilidade do Dossiê de Insumo Farmacêutico Ativo (CADIFA) regulations in Brazil. The regulations came into effect in August 2020, and corporations were given a three (03)-year grace period to comply with them. Companies seeking to register their medicinal products in Brazil must obtain a CADIFA application by August 2023.
What is the CADIFA?
A CADIFA is an ANVISA letter that verifies the acceptance of the API dossier or Drug Master File (DMF). It acts as a certificate of Good Manufacturing Practices (GMP) compliance for the manufacture of APIs in Brazil. Once authorized, a CADIFA can be used to support multiple drug product registration applications without the need for re-evaluation.
CADIFA Update, 2023
Starting from August 2023, every company wishing to register its drug products in Brazil must get a CADIFA. The revised regulations came into effect in 2021, and the CADIFA would replace the API Dossier or the DMF (DIFA, It is an acronym in the local language for Active Pharmaceutical Ingredient Dossier.). A company can obtain a CADIFA application free of charge, and it does not need to be renewed. However, it must be kept up to date by the DMF holder whenever any changes occur.
Process for Obtaining a CADIFA
Here are the key steps involved in getting a CADIFA for drug registration in Brazil:
The DMF holder, or an organization with knowledge of the entire DMF, must submit the DIFA to the ANVISA to get a CADIFA.
Only the DMF holder can request the CADIFA.
It is not necessary to have a Regulatory agent in Brazil to get a CADIFA application; rather, the process can be completed by the foreign API manufacturer themselves.
Once authorized, the CADIFA can be used to support several drug product registration applications where no re-evaluation is required.
 In Brazil, the average API approval time for a medicinal product is fifteen (15) to eighteen (18) months, while the API approval time for fixed-dose combinations is twenty-four (24) months.
Benefits of the CADIFA
The CADIFA offers various advantages to organizations looking for drug registration in Brazil. It provides a certificate of GMP compliance to API manufactures in Brazil, which is required for registering medicinal products there. When a CADIFA is authorized, it encompasses any subsequent submission that relies on the API covered by the CADIFA. This technique eliminates the need to re-evaluate the API dossier or DMF for each drug product registration application.
If you are looking to register your drug products in Brazil, you must obtain a CADIFA. Freyr's team of Regulatory experts can fully support you with your CADIFA application and other Regulatory requirements.
Contact us to learn more about how we can help you successfully register your drug products in Brazil.